Get your freshly baked Papa Murphy pizza and get the delicious taste of home-like cooking. With fresh dough made from scratch every day, whole-milk mozzarella cheese, hand-sliced veggies, and premium topping, Papa Murphy Pizza is certainly top-tier.
Enjoying pizza is good, enjoying it at the cheap is even better. We've gathered here all Papa Murphy specials. Choose your favorites and enjoy your pizza.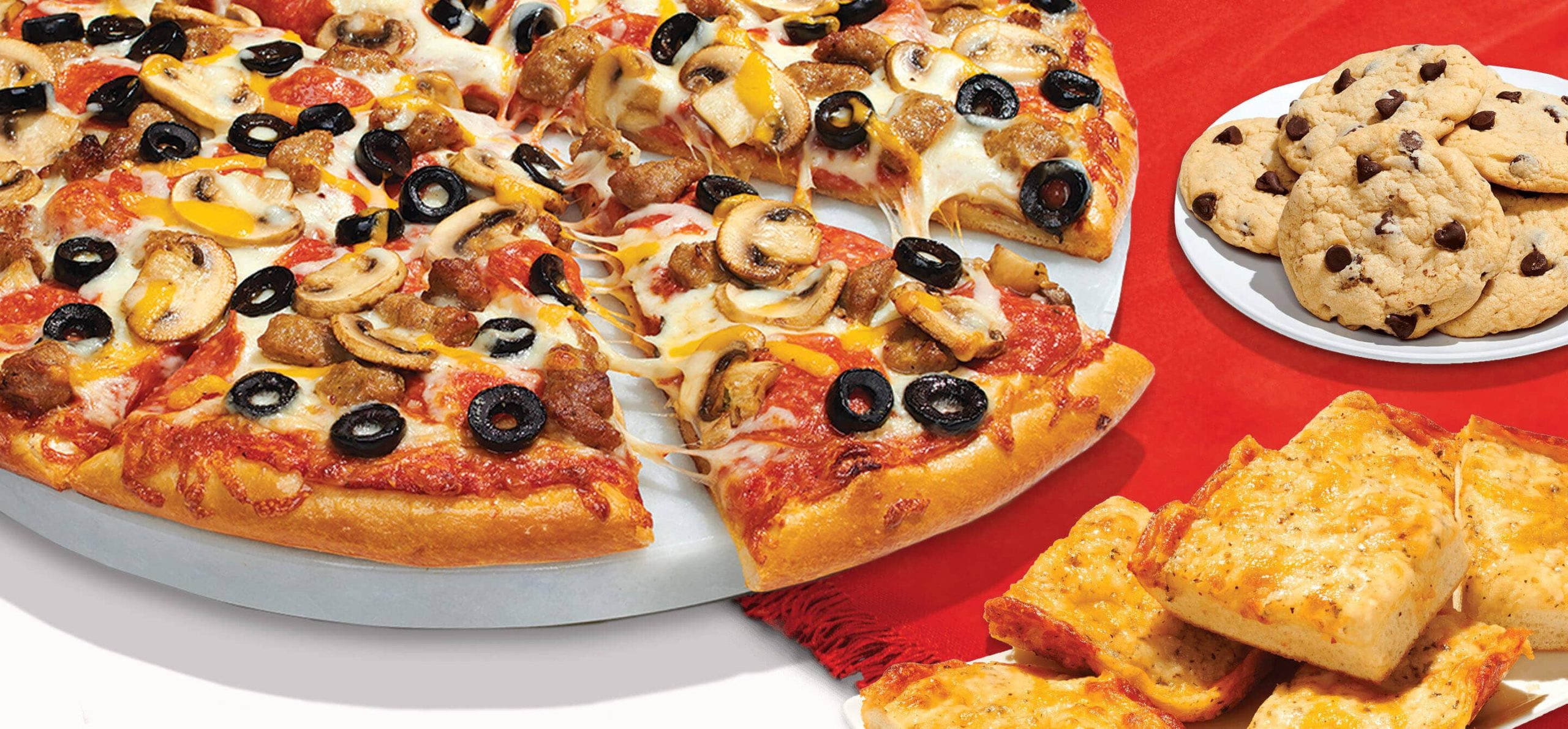 Monday Papa Murphy's Specials
Get your BOGO at the purchase of a large pizza with this Papa Murphy's coupon code and enjoy your two pizzas by yourself or shared.
To get your deal, you should check if your local Papa Murphy's is included in the participating restaurants. If so, click on the Classic & Specials banner and you will see ''Text/Email Club Deal – BOGO LG Cheese/pepperoni (Mondays only).
Click on the pizza of your choice ( Cheese or Pepperoni) and add it to your cart. Go back again to the Classics & Specials menu and add another pizza to the cart (cheese or pepperoni).
At the checkout, use the coupon code below and the price of one pizza will be deducted from your total.
Buy One Large Pizza, Get Another for Free
Tuesday Papa Murphy's Specials
This is the most popular of Papa Murphy's specials. On Tuesdays, they offer large pizzas for $10.99 (it can be $12.99 at some restaurants).
Get your large pizza of choice for $10.99, you can also upgrade it to the Family size (16 inches) for $2 only.
Order a ''Create Your Own Pizza'' on the website on the app, select a large pizza and add up to 5 toppings. The total should automatically be $10.99.
Prices and availability vary by location.
$6.99 Medium Pizza Deal
For a limited time, you can get a Medium 2-topping pizza for $6.99 at your nearest Papa Murphy's location. You can find this deal in the Classics & Specials section.
Family Feast Special
Get this family feast special from Papa Murphy's that features a large Pepperoni pizza, a large Cowboy pizza, Cookie dough, and 2L Pepsi for $25 only.
Kid's Favorite
Treat your kids to some delicious pizza and get them 2 large Pepperoni pizzas and 1 large cheese pizza for $20 only.
25% Off Your Order (again)
Another 25% Off your next order when you sign up for Papa Murphy's MySlice Rewards newsletter or text messages. This offer is available both in-store and Online on orders of $20 or more.
20% OFF Delivery Orders
Get a 20% discount on your $20 and more orders. This offer will be on for a limited time only. Use the promo code NPM20 to get the deal.
Papa Murphy's App

To make it easier for you, Papa Murphy's app MySLICE Rewards lets you in Papa Murphy's specials and deals available at your local restaurants.
You will be able to earn points with every purchase you make and make steps towards free items on the menu and exclusive discounts. The app has members' only deals, sneak peeks, local & national deals, and much more.
Register now with a valid email address and phone number and be part of the club! The app is available on IOS and Android and is free to download.
Download on Apple Store Download on Google Play
You can redeem your rewards both online and in-store.
To redeem your online rewards: simply follow these steps:
Positive
Select the desired item and add it to your cart
Add the eligible reward
Proceed to checkout and click "Apply" to redeem your reward.
Enjoy!
Papa Murphy's Menu
Papa Murphy's is not your regular pizza location, they own their famous concept of ''Take 'N' Bake'' pizzas. With this feature, you can pick the pizza of your choice, and take it home to cook it for 15-20 minutes so you enjoy your pizza fresh out of the oven.
Papa Murphy's serves gluten-free dough and dairy-free pizza to satisfy everyone's preferences and diets.
Papa Murphy's special menu
All items on Papa Murphy's Menu are quite special. For a limited time, Papa Murphy's is introducing Buffalo Ranch Chicken made of chicken (of course), crispy bacon, fresh mozzarella, and a creamy Buffalo Ranch sauce.
You can have it as a regular pizza or crustless pizza.
Papa Murphy's Fan Favorites
We've gathered here the most popular pizzas at Papa Murphy's so you can try them on your next visit:
Positives
Cheese pizza
Pepperoni Pizza
Chicago-Style Stuffed
5-Meat Stuffed
Greek Pepperoni
Chicken Bacon Stuffed
Other Items
Pizza isn't the only thing on Papa Murphy's menu. The menu also includes salads, bread, dessert, and drinks with Cinnamon Wheel being one of the most popular desserts.
About Papa Murphy's
Murphy's Pizza was founded in Hillsboro, Oregon, in 1981 as "Papa Aldo's Pizza" and renamed "Murphy's Pizza" in 1984. In 1995, the two chains united after 11 years apart. It now has about 1,500 locations and is the country's fifth-largest pizza restaurant business.
Papa Murphy's has the best flavorful pizzas to satisfy your pizza needs. Gluten-free and keto-friendly pizzas are also available if you are following a diet.
All of the foods served here are both affordable and tasty. So, before you go to Papa Murphy's to get a slice of your favorite cheesy pizza, take a look at the current best deals.
For pizza aficionados, Papa Murphy's is a one-stop-shop. Signature pizzas, gourmet delight pizzas, stuffed pizzas, salads, sides, and beverages are among the menu items.
Papa Murphy's signature dishes include Cowboy Pizza, Papa's Favorite Pizza, Murphy's Combo, and more. At Papa Murphy's, you can also make your own pizza. For under $30, you may have a delicious full meal by yourself or with others.
Papa Murphy's Near Me
With nearly 1200 Papa Murphy's locations all over the United States. All you have to do is click here to find your nearest Papa Murphy's restaurant.
Papa Murphy's Hours
Most Papa Murphy's restaurants open at 11 a.m. They'll close between 8 and 9 p.m., so they won't be open as late as some of their competitors. They usually don't take late-night orders.
Papa Murphy's Delivery
Papa Murphy's delivers through its own app, and also through third-party delivery services such as Doordash, Grubhub, Postmates, Uber Eats, and others.
Papa Murphy's Nutrition
On its website, Papa Murphy's provides a list of nutritional and food allergies information to assist you in selecting the healthiest option for you.
Papa Murphy's Birthday Reward
Like many other restaurants, Papa Murphy also spoils you on your birthday. Depending on your app account, you can receive a coupon for a free pizza, a free cookie dough, and other birthday goodies. Sign up to their app now to get your birthday reward.
Receive Coupons & Deals Updates
Get the Latest Deals as soon as they're available!