Don't miss out on the incredible deals and coupons available this December at McDonald's! From combo deals to discounts on fan-favorite menu items, you can save money while enjoying all of your favorite meals.
McDonald's App Deal

Up to 5% Off Gift Cards
5% OFF
Get up to 5% off Gift Cards.

$1 Any size Soft Drinks & $2 Small McCafé Drinks
$1 & $2
$1 for Any size Soft Drinks and $2 for Small McCafé Drinks. This offer is available In-store & Online.

Free Large Fries
Free
Get a Free Large Fries with a $1 minimum order or medium fries with a $2 order. Offer available on the McDonald's App only.

$6.49 Medium combo meal
$6.49
$6.49 Medium combo meal

Coffee or Iced coffee
$0.99
Any size Premium-Roast coffee or Iced Coffee- Expires 31st of December 2023.

$1.19 Seasonal pies
$1.19
Seasonal pies cost $1.19 each or 2 for $2.29

BOGO for $1
$1
BOGO for $1 Deal is back and $1 $2 $3 menus plus McNugget Buddies

Breakfast with a Side of 2x Points
2 Points
Breakfast with a Side of 2x Points for Mcdonalds' rewards
Other McDonald's Coupons
$6.49 Medium combo meal
25% off any purchase of $1 or more through the McDonalds App
$0 delivery fee on your first $15+ order
Free Fries Friday
It's official. You can get free medium fries every Friday at McDonald's. All you need to do is to spend at least $1 and get your free crispy fries, every Friday. Available on McDonald's app. Expires: December, 31, 2023.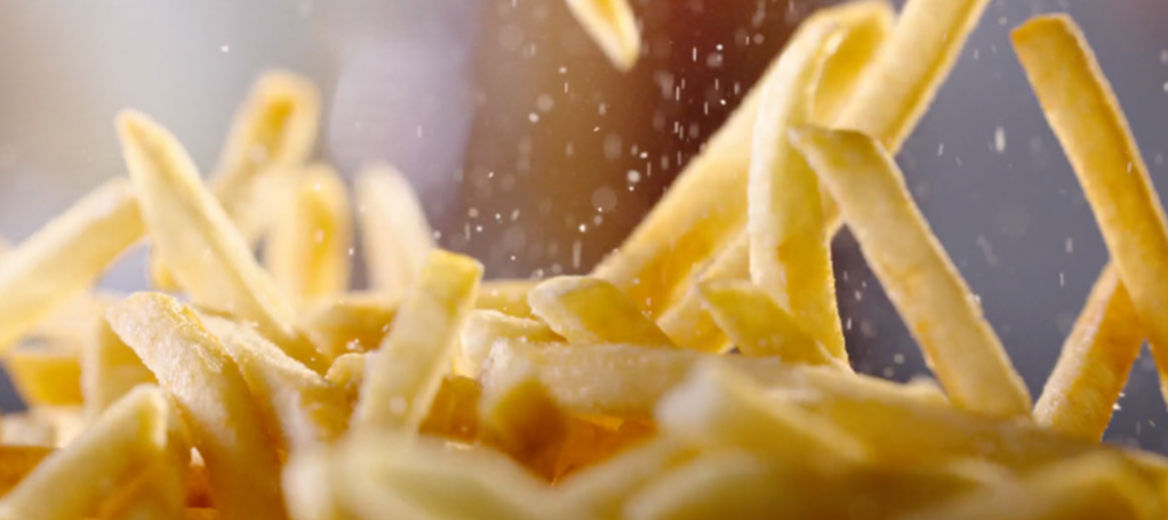 Offers are exclusive to McDelivery and Doordash.
$1 $2 $3 Dollar Menu
The Mcdonald's $1 $2 $3 menu is back to treat you for a low-cost price at any time of the day.
No mcdonald's coupon is required to benefit from the deal. You can get it from both the McDonald's counter or through the app.
You can choose your menu from the following item:
$1 Any Size Soft Drinks
$2 Small McCafé
$1 Hamburger or Cheeseburger
$2 Cheeseburger
$3 Happy Meal
Senior Discount
By ordering using the McDonald's app, senior citizens can get soft drinks and coffee for 59 cents. Select Senior as the size when ordering soft drinks or coffee from the mobile order menu (change the default from medium). Your drink will cost you 59 cents. The price may vary depending on the region; the price mentioned is the average.
McDonald's Freebies
This offer isn't available now but will for sure come back soon.
Available at participating McDonald's only and may take up to 48 hours to appear in your deals section.
McDonald's App Deals Details
McDonald's spoils you with their My McDonald's App to keep eye on their latest deals and offers. From student offers to free cafes, My Mcdonald's App got you!
McDonald's loyalty program is linked to their app. Customers who use the app become automatically members of the chain's MyMcDonald's Rewards program.
McDonald's app is the best and only location to save money on a regular basis. Every day, customers can find deals in the app, such as FREE food, $1 menu items, half-price deals, and BOGOs. Since the deals change on a daily basis, it's a good idea to check back frequently to see what's new.
The offers differ depending on the region, market, and location. National offers, which are available to all McDonald's app users, are the lone exception.
Make sure to always read the fine print. The majority of the offers can be claimed in-restaurant by scanning a QR code, however, others can only be redeemed through the chain's Mobile Order and Pay system.
The deals are sure great, but you cannot double-dip them, which means you can't use two offers at the same time.
After you've redeemed a digital deal, you'll be locked out for 60 minutes before you can redeem another. To get around the limit, savvy consumers will have a friend or family member redeem a second deal using their mobile device.
McCafé
To participate in the McCafé Rewards program, you must be a registered member of the McDonald's App. At every purchase of McCafé eligible drinks at participating restaurants you will get McCafé Rewards Punches.
Once you earn five punches, you will receive a deal for a free McCafé drink. You can redeem your drink through the McDonald's app or by scanning your code at a participating restaurant.
Want to start your day right? At a low-cot? Mcdonald's App got you! Get your Premium Roast Coffee or Iced Coffee in any size for only $0.99.
Easy payment
With the My Mcdonalds app, you can link your credit or debit card to your account and pay for your favorite meals conveniently.
Points and Rewards
Bonus Points
McDonald's is offering you 3x points on your first mobile order. To beneficiate of this offer, all you need to do is activate bonus through the app then order ahead.
With every (1) dollar you spend at McDonald's (in-store, delivery, or app), you earn 100 Rewards Points.
To redeem your Mcdonald's rewards, you should have earned at least 1500points. Here is what you can unlock with your points:
Positives
1500 points: Vanilla Cone, Hash Browns, Cheeseburger, or McChicken.
3000 points: Medium Fries, 6 pc Chicken McNuggets, Sausage Burrito, or Large Iced Coffee.
4500 points: Large Fries, Filet-O-Fish, Sausage McMuffin or Frappé.
6000 points: Big Mac, Quarter Pounder with cheese, Happy Meal, Bacon, Egg, and Cheese Biscuit
The process to earn your points is very easy, simply download the McDonald's App, and you will be earning your points automatically when you order in the app, or you can present the 4-digit code at your nearest Mcdonald's or the drive-thru.
Free Rewards
When you join MyMcDonald's Rewards, you get to choose your free reward after your first order from:
Hash Browns
Vanilla Cône
McChicken
Cheeseburger
Your Rewards Points will expire six (6) months from the day you earned your points.
Email Promotions & McDonald's Deals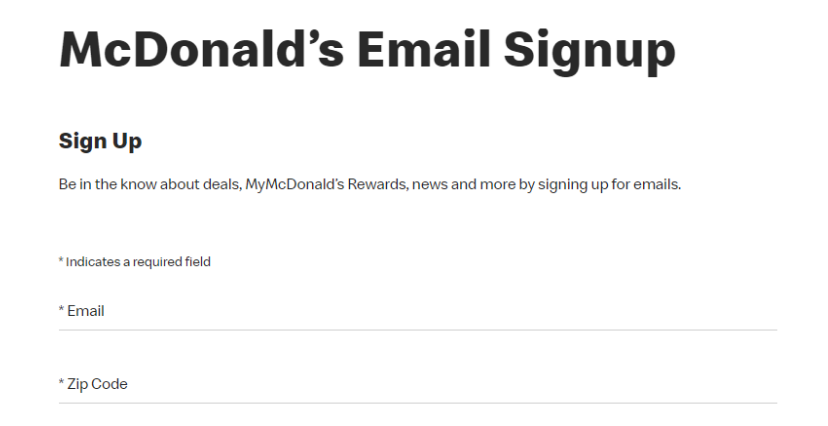 By signing up to Mcdonald's email list, you will be updated about all of the upcoming McDonald's deals and discounts. No FOMO!
McDelivery
You can get all your meals delivered to you with McDonald's delivery service, or third party services (Uber Eats or Doordash).
All you need is the McDonald's App, then select ''Order'' from the menu bar and choose ''McDelivery''. Enter your chosen delivery address to make sure if McDelivery is available in your area.
A delivery cost may vary according to delivery locations and orders. Make sure to check the delivery in the mentioned apps and check if you are eligible to any discounts or deals.
Doordash
If you do not have a DoorDash account, this might be the right time to get one. Doordash offers you free delivery on your first order.
Doordash Coupon
Here's a deal for you!
You get 30% off your first McDonald's purchase from Doordash by using the promo code below.
Uber Eats Coupon
Get $5 off your first order of McDonald's for delivery on Uber Eats. Use the promo code below to benefit from your deal:
New Drops
Shamrock Shake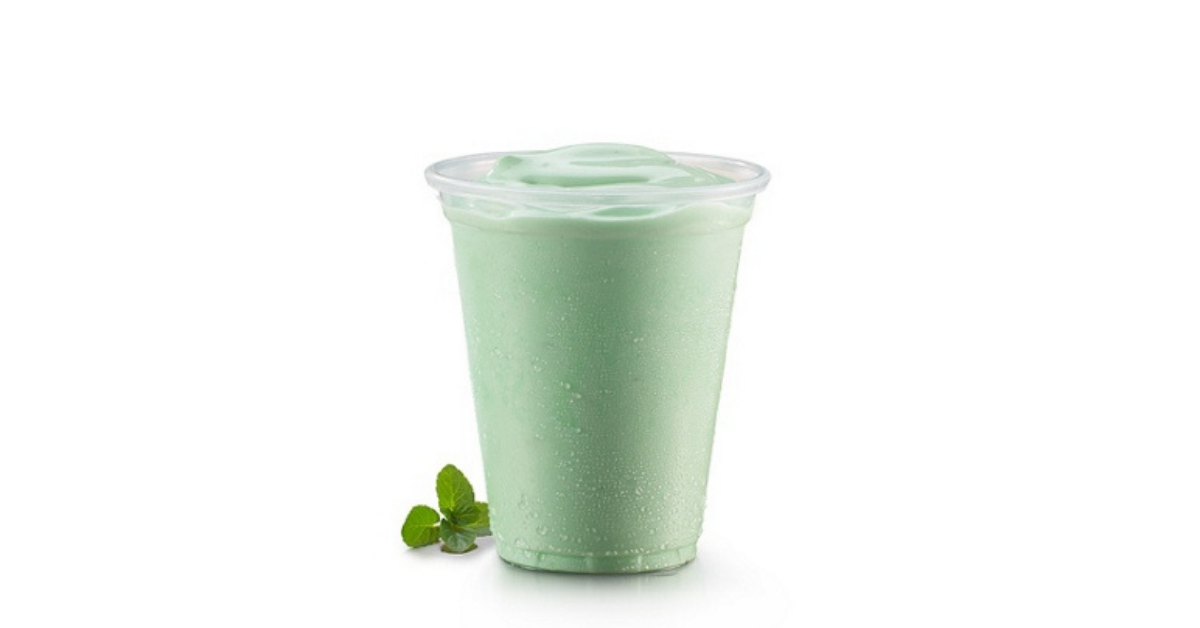 Rejoice! The Shamrock Shake is back to the Golden Arches! Since its release, the original wonderful minty treat has been a popular favorite, and the minty twist on the drink lives up to the promise!
About McDonald's
Being the world's most famous fast-food chain, Mcdonald's surely has a knack for making everybody happy with their delicious and large meal choices.
Even better when you can get it at a low cost and save money on purchases.
Get your coupons, exclusive discounts, and deals through McDonald's app, coupon codes, or delivery services.
Family Hub
McDonald's aspires to be a welcoming and safe space for your entire family, both in restaurants and online.
You can enjoy a birthday party at home with the online Mcdonald's activities to bring a smile to your child's happy day.
The kids can also enjoy a wide range of interactive eBooks and games in their very own app, the Happy Meal App.
Mcdonald's restaurants also offer free Wi-Fi in many of their locations.
McCafé at Home
You can enjoy a nice cup of coffee all while enjoying the McCafé experience, with the McCaf" Arabica coffee available in pods, bags, and cans in different blends.
Premium Roast
Breakfast Blend
French Roast
French Vanilla
Colombian
Mocha Collection
Premium Roast Decaf
McDonald's Menu
McDonald's has expanded their menu beyond burgers and fries to include items such as Chicken McNuggets, gourmet café beverages, salads, and even the oddities like the now-defunct McRib. The legendary Big Mac is the star of the burger menu, while Happy Meals are sure to please the kids.
McDonald's offers a range of breakfast sandwiches, including sausage biscuits, the McMuffin, and McGriddles (hotcakes instead of a biscuit). In recent years, the popular fast food company has attempted to optimize its operations by cutting the less profitable and popular products from the menu. However, they are always releasing new menu items to keep their customers coming back.
Make sure to check the menu on their website.
McDonald's Near Me
In the United States, McDonald's has about 14,000 franchises. You might even come upon two right next to each other. Make sure to check your nearby Mcdonald's restaurant at McDonald's restaurant locator.
McDonald's Hours
At McDonald's restaurants, Breakfast is served from 5 am to 10:30 am, and lunch and dinner are served from 10:30 am to 11 pm, but timings may change. Expect the drive-through to stay open until 1 a.m or later in many of the busier restaurants. To see the hours, address, and other information about your local McDonald's, visit their website.
McDonald's Nutrition
In their web and app menus, McDonald's includes food allergies and nutritional information. You can consider some better nutritional choices, but if you are looking for a healthy place to eat, you might not be at the right place. Fast food establishments do not strive to be healthy.
McDonald's has provided nutritional content for any of the items on their menu. Visit McDonald's Nutritional Calculator page.
You can make changes to the menu ingredients online when you start an online or phone order; when ordering in a restaurant, simply ask the crew member to take out a specific ingredient.
Get the Latest Deals & Coupons
Subscribe to our mailing list and get the Latest Deals to your email inbox.