Everyone can have a good time and eat well at the Texas Roadhouse. Find here all Texas Roadhouse Specials Deals and Coupons available for June
Get a $10 Bonus E-gift Card
On every $50 Gift Card bought online you can get a $10 Bonus to spend in the Texas Roadhouse of your choice.
$9.99 Early Dine Meals
Texas Roadhouse's ongoing "Early Dine" special reduces the price on select entrees to as low as $10.99, depending on the location when you come in before the dinner rush.
Early Dine Meal special takes effect from Monday through Thursday before 6 p.m., and sometimes at some locations Friday and Saturday.
The hours and prices may vary depending on the location. ., and sometimes on Fridays and Saturdays at select locations Pricing and hours for this special vary by location.
The following 11 entrées are only $10.99 at participating restaurants:
Accompany your order with two sides of choice:
Applesauce
Baked potato
Buttered Corn
Fresh Vegetables
Green Beans
Mashed Potatoes
Seasoned Rice
Steak Fries
Sweet Potato
Texas Red Chili
Sauteed Onions
Sauteed Mushrooms
No coupon is required to get this deal. The offer is valid at participating Texas Roadhouse participating locations.
Free Appetizer with Email Sign up
Join the Texas Roadhouse mailing list to become a VIP member and receive a coupon for a free appetizer at the purchase of any entrée. You are free to choose from Tater Skins, Cactus Blossom, Fried pickles, or Rattlesnake Bites.
Will West Wednesdays
On Wednesdays, you get to enjoy a tasty 11 oz. sirloin steak with two (2) sides for only $11.99.
Make sure to check with your nearest restaurant to make sure they're participating in this deal.
Free Birthday Appetizer
You will receive another voucher for a FREE appetizer on your birthday just for signing up with Texas Roadhouse online. Choose from the various appetizers selection that includes: Loaded Tater Skins, Cheese Fries, Cactus Blossom, Fried Pickles, or Rattlesnake Bites.
All of Texas Roadhouse's appetizers are meant to be shared, so plan on having your next birthday meal with your friends or family there for a great deal!
You can also add your kids to the registration form. Make sure to sign them up to redeem their birthday freebie too!
You will receive an e-mail coupon entitling you to your birthday freebie. Valid on your birthday, 5 days before, and 9 days after.
Enjoy your birthday meal!
Free Veterans Day Lunch
Similar to the past years, Texas Roadhouse will again be offering a free lunch on Veterans Day to all veterans and active-duty military personnel.
You can choose from the following menu:
Positives
6-ounce Sirloin Steak with two (2) sides
Grilled Pork Chop with two (2) sides
Pulled Pork Dinner with two (2) sides
Country Fried chicken with two (2) sides
Country Fried Sirloin with two (2) sides
All-American Cheeseburger with Steak Fries
BBQ Chicken Sandwich with Steak Fries
Pulled Pork Sandwich with Steak Fries
Grilled Chicken Salad
Chicken Critter Salad
It doesn't end here, the meal also includes the drink of your choice: tea, coffee, or soft drink.
Lunch Special
Texas Roadhouse used to have the $5 lunch special that includes a boxed lunch with a main dish, fries, and a roll. The lunch special is only available if you order in advance or get your food to-go.
The deal may not be available at the moment. Make sure to contact your nearest Texas Roadhouse location for more information.
Texas Roadhouse VIP Club

To get the latest Texas Roadhouse Specials, deals, and offers, join the VIP Club for free and upgrade your experience.
You can also download Texas Roadhouse mobile app to browse the menu, find your nearest location, and order ahead. The app is available on IOS and Android.
About Texas Roadhouse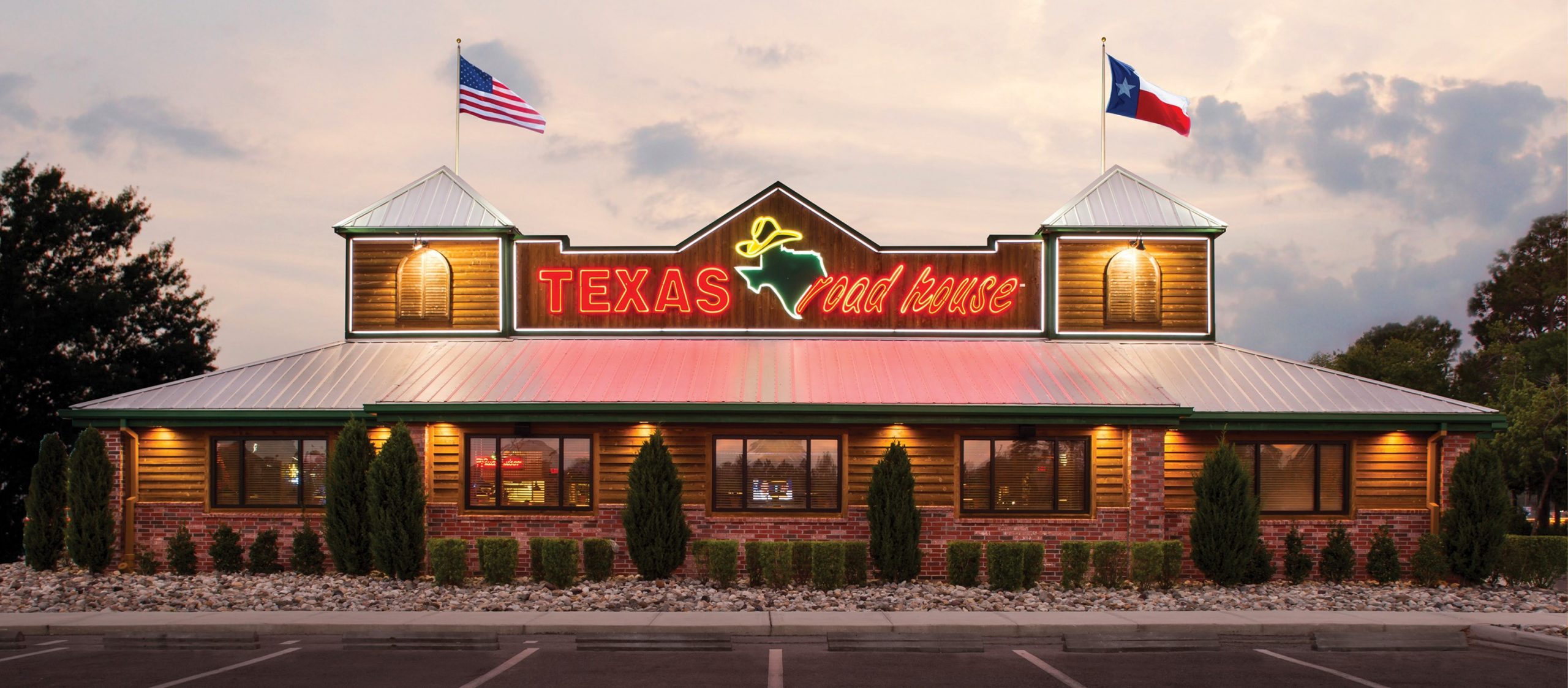 Texas Roadhouse is a restaurant chain that promises to serve the best American food possible, with steaks being a specialty. There is something on the Texas Roadhouse menu for everyone, including ribs, chicken, seafood, and many other popular items.
The Texas Roadhouse "Early Dine" is just one example of how you may save money on your next visit, with an emphasis on high-quality food at affordable prices.
A western theme decorates the inside of each Texas Roadhouse, as do many outstanding steakhouses, and with jukeboxes and line dancers adding to the fun, there are more than just good meals here. It's all about enjoying the moment and having fun, which makes it a great destination for family and friends' outings.
Texas Roadhouse is also child-friendly and has items on its menu to satisfy their picky taste. (hot fogs, chicken tenders, mac & cheese, and other items)
Texas Roadhouse Menu
Texas Roadhouse Menu has everything for everyone. From steaks, chicken, and even seafood for all the pedestrians out there. You can also find salads if you're eating clean and healthy.

Their fresh-baked bread rolls are most definitely the star of the house. All tables are served with a basket of four (4) pieces accompanied by their signature Honey Cinnamon Butter. Each location has a baker and a butcher to assure the best freshness and quality possible.
Popular Meals:
Positives
Cactus Blossom
USDA Choice Sirloin
New York Strip Steak
Full Slab of Fall of the bone ribs
Grilled BBQ Chicken & Ribs
Chicken Critters & Ribs
Texas Roadhouse Hours
Because each Texas Roadhouse has its own set of hours, phone ahead before placing an order or driving there. Extended hours are usually available at busier locations.
They normally open at 11 a.m. on weekdays and close at 8 or 9 p.m. on weekends. Call ahead to double-check, especially if it's a holiday. Breakfast is not served at Texas Roadhouse.
Texas Roadhouse Delivery
Texas Roadhouse takes online orders for pickups in-store. They also use most of the main third-party food delivery services including Doordash, Postmates, or UberEats.
Delivery availability depends on your location, some services may deliver to you, and some may not, for this, open each app to see if a Texas Roadhouse near you is open.
They occasionally provide free shipping on your first order or free shipping with a minimum order amount
Receive Coupons & Deals Updates
Get the Latest Deals as soon as they're available!