Burger King's menu is most renowned for its delicious hamburgers. Besides their burgers, they also offer a great selection of breakfast, family bundles, sides, and desserts on their menu. After McDonald's, they are the most well-known burger option in the world, and they also propose affordable meals.
Most importantly, you can enjoy their meals all while saving money with their regular offers and deals. The following is a selection of their finest coupons and deals that you can use today! 
Burger King Deals & Coupons
Burger King lovers are in luck because the restaurant is regularly offering interesting deals and offers.
Burger King uses its website as well as mobile Android and iOS apps, and sometimes mobile texts to provide discounts and special offers.
You will need a phone or computer to save money at BK. The offers described below are available in apps and in-store depending on each.
FREE Whopper, Croissan'which or OCS
At the purchase of $3 or more at Burger King, you get to choose between a free Whopper, a Croissan'wich, or an OSC. This offer is valid for new members of the Burger King app. Valid on delivery.
This one is one of the most favorite Burger King Deals. The deal offers you a burger of choice, 16 oz. drink and a value-size fries for only $3.
$9 Medium Bacon King Combo
If you are visiting BK for lunch or dinner, consider getting this meal. The deal includes a Bacon King Burger, medium fries, and a medium drink for $9.
$5 2 Whopper Jr. Sandwiches & 2 Small French Fries
If you want to share your lunch or maybe have it all by yourself, this Burger King deal offers 2 Whopper Jr. Sandwiches and 2 small French fries for $5 only.
$7 Medium Impossible Whopper Meal
Enjoy your lunch with this Burger King Deal and get a Whopper burger accompanied with a medium soft drink and medium fries for $7.
$7.99 Original Chicken Sandwich Meal for 2
Get two (2) Original Chicken Sandwiches, 2 small French fries, and two (2) small drinks for $7.99.
$6 Croissan'wich Meal for Two
Breakfast for two has never been nicer. Get yourself and your friend 2 Croissan'wich Sandwiches, 2 small Hash Browns, and 2 small brewed coffees for only $6.
$5 Croissan'wich Meal for One
Enjoy your breakfast with 2 Croissan'wich, 1 small Hash Brown, and 1 small coffee for $4.
$4 2 Biscuits, Hash Brown and Coffee
Another breakfast deal to get yourself two (2) Biscuits of choice, 1 small hash brown, and 1 small coffee for $4.
$4 9pc Chicken Fries & French Fries
If you're not in the mood for a full meal, this deal got you. Get 9pcs of Chicken Fries along with 1 (one) large fries for $4.
$1Large French Fries
Enough fries aren't enough. BK offers you large French fries for 1$ only.
$1 Large Onion Rings
If you're a fan of onion rings, here's one for you. Get yourself large onion rings for $1 only.

Other Deals:
$1 Large Hashbrowns
$1 Any Size Hot Coffee
$1 Large Hashbrown
BOGO Whopper: Buy One Whooper, get another one for free
In-Store Coupon Codes
$5 2 Croissan'wich Meal (2 sausages or ham Croissan'which, 1 small hash browns, 1 small coffee)
$4.99 2 Original Chicken Sandwiches & 2 Small Fries
$3.99 2 Whoppers Jr. & 2 Small French Fries
Available in stores only. Save the 4-digit codes mentioned above. Once you put your order at the restaurant, show the code at the counter and your promotion will be added.
Text Coupons
Sometimes, classical ways are the best ways. Get exclusive Burger King deals and coupons by texting "FLAME" to 251251.
Burger King App
The Burger King App saves you time and money. You can easily navigate the menu, prices, and your nearest Burger King location. The best feature of the app is definitely the exclusive deals and coupons reserved for the members only.

You can use your Rewards to get free meals. The Burger King App is available on IOS and Android mobile devices.
Download on Apple Store Download on Google Play
BK Crowns
With each purchase you make at Burger King (in-store or online), you earn Crowns that allow you to get free items from the menu.
You can earn 10 Crowns for every $1 spent at Burger King. On your birthday, you earn 2X Crowns throughout your whole birthday month.
BK Crowns also allows you to upsize your order (fries, drinks, hash browns, and coffee) for free.
When your order at a BK restaurant, show them your 6-digits code from your app to earn your Crowns.
Free Whopper, Croissan'wich, or Original Chicken Sandwich
If you haven't downloaded the BK App yet, now is a good time. Burger King is offering the new members a free Whopper, Croissan'wich, or Original Chicken Sandwich on all your purchases over $3. Offer available on delivery and pick up.
Burger King Delivery
Burger King offers delivery services through their own BK Delivery service or through third parties such as Doordash, Uber eats, or Grubhub.
For BK App members, Burger king is exclusively offering you free delivery for a limited time through their BK Delivery service for orders over $5. The offer expires May 16, 2022.
Burger King Survey
Burger King wishes to know about your experience at their restaurants by handing out an online survey on mybkexperience.com. Once on the website, you will be asked to enter the restaurant number mentioned on your receipt and you will be directed to fill out the survey.

Once completed, you will receive a coupon within 48 hours allowing you to get a free Whopper or an Original Chicken Sandwich at the purchase of any sized drink and fries.
Burger King Secret Menu
Most restaurants now offer a secret menu, and Burger King is no exception. There are several items on the Burger King secret menu that are not available on the standard menu. You can either make those items yourself using standard menu items or simply order them and the staff will get them to you.
The Burger King Ham and Cheese: Burger King's Ham & Cheese is one of the most well-known and basic hidden menu items. It's just a plain ham and cheese sandwich on Burger King bread. To add some more flavor and freshness to your dinner, I recommend pairing it with a drink.
Burger King BLT:

If you're a fan of the whooper, you'll enjoy this burger. The BLT Burger is a normal whopper burger topped with flavorful bacon. Besides the bacon, the lettuce and tomato slices just add to the overall flavor of this upgraded whooper.

BK Club: This BK Club is for those who are a little bored with their regular chicken sandwich. This burger consists of a chicken sandwich with crispy bacon, cheese, and tomatoes on top. If it were to be added to Burger King's regular menu, it would undeniably be a hit.
Burger King Mustard Whopper: Burger King's most popular burger is the Whopper. The twist to this secret menu is replacing the regular mayonnaise with mustard? 

So there you have it: the Burger King Mustard Whopper. It may appear to be a minor change, yet it turns a standard whopper into something quite different. You can also use a combination of mayonnaise and mustard.

Veggie Whopper: The classic Whopper includes a classic beef burger. However, if you're a vegetarian, Burger King's secret menu has a Veggie Whopper.

The beef patty is replaced with a delicious veggie burger with all of the salad toppings. All vegetarians can enjoy a Burger King whopper with this veggie whopper. 

Rodeo Burger: The classic Burger King cheeseburger is a fan favorite. Have you ever considered a cheeseburger topped with tangy BBQ sauce and onion rings? If you haven't already, the Rodeo Burger is a must-try. Everyone who eats this burger will have a flavorful experience. The Rodeo Burger was formerly available on the regular menu, however, it is now available on Burger King's secret menu.

Frings: Many Burger King customers are unsure whether to order fries or onion rings. To clear things up, Burger King has introduced Frings, which allows us to have the best of both worlds. Half-ordered onion rings and half-ordered fries are what Frings is all about. So, if you're ever in doubt about what to order, Frings from the secret menu is your best bet.
Burger King Exclusives
Burger King launches regularly new items on their menu for a limited time to refresh your order and try new stuff. The following are their newest exclusives available on the menu
Whopper Melt Sandwiches

The new Burger King Whopper Melt is a combination of two flame-grilled patties, American cheese, caramelized onions, and Stacker Sauce, all stacked between two slices of toasted bread. You can order it at the price of $4.29.
You can order your Whopper Melt by itself or on the menu. You can choose between three (3) menu variations:
Your Melty Pleasure: dedicated to cheese lovers. Comes with extra cheese, fries, a drink, and 4 pc Mozzarella sticks. The meal costs $6.

The Anti-Social One: Regular Whopper with extra caramelized onions, a side of onion rings, and a drink. The meal costs $6.

The Spicy One: level up with this Jalapeño whopper with extra jalapeño, fries, a drink, and 4 pc jalapeño cheddar bites. The meal costs $6.

About Burger King
Burger King has over 17,700 locations throughout the world. The brand has spread to over 91 countries and territories around the world.
Burger King's menu combines high-quality, one-of-a-kind ingredients to create the most delicious burgers at affordable costs. The menu offers a large selection of burgers, chicken sandwiches, sides, salads, beverages, and desserts. There is also a specific menu for children.
Burger King Menu
Burger King's menu has grown from a simple offering of burgers, French fries, sodas, and milkshakes in 1954 to a wider, more diverse range of products. The Whopper was the first major addition to the Burger King menu in 1957, and it has since become the company's iconic product.

Chicken Fries are a new popular item, while the vegetarian Impossible Whopper was a major hit when it was introduced in the summer of 2019.
Burger King Hours
Most Burger King locations open at 6 a.m., some at 5:30 a.m., and close between 10 p.m. and 1 a.m. depending on the location and day of the week. Most locations remain closed during Christmas Eve, New Year's Eve, and Thanksgiving Day.
Since each restaurant's hours may vary, phone ahead before placing an order or driving there.
Breakfast Hours
As you may know by now, Burger King has a breakfast menu, and breakfast meal products differ from other regular items served at different times. So, when does Burger King serve breakfast? They serve it between 6 am and 11 am. 
Burger King Near Me

Burger King restaurants are just about everywhere. They have nearly 8,000 locations in the U.S. You can find your nearest Burger King location at Store Locator
Burger King Nutrition
Burger King's online and app menus provide allergies and nutritional information. Click here to see the nutritional information for any menu item.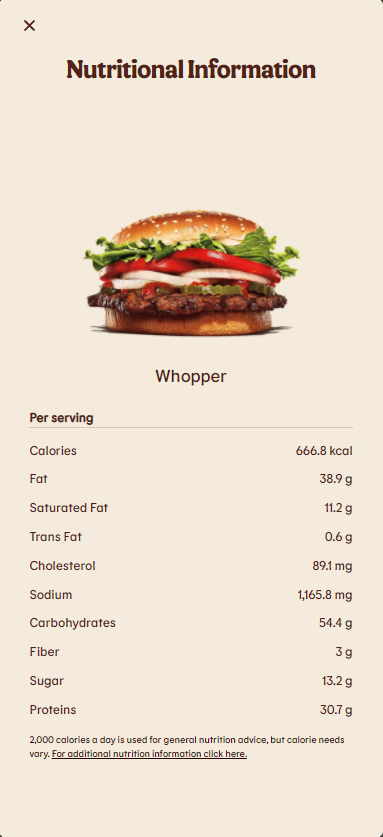 You can make changes to the menu ingredients online when you start an online or phone order; when ordering in a restaurant, simply ask the server to leave out a specific ingredient.
Join our list
Subscribe to our mailing list and get interesting stuff and updates to your email inbox.