Come and enjoy the best Buffalo Wild Wings specials with the deals and coupons listed here. Known as people's favorite football-watching food, Buffalo Wing's menu is packed with many flavorful options to satisfy all your palates.
Buffalo Wild Wings Specials
10 Wing Bundle for $9.99 (10 Boneless Wings with French Fries)
Enjoy 6 boneless wings for just $1 with the purchase of any burger
20/20 Wing Bundle for $39.99 (20 Boneless + 20 Traditional Wings + Fries)
Get to the bar for $3 Tall House Beer Every Day
20% off when you spend $10 or more
$5 off your order of $25 or more
Wings Tuesdays Deal
Get your favorite wings at Buffalo Wild Wings and get another one for half the price on Tuesdays only.
Wings Thursday Deal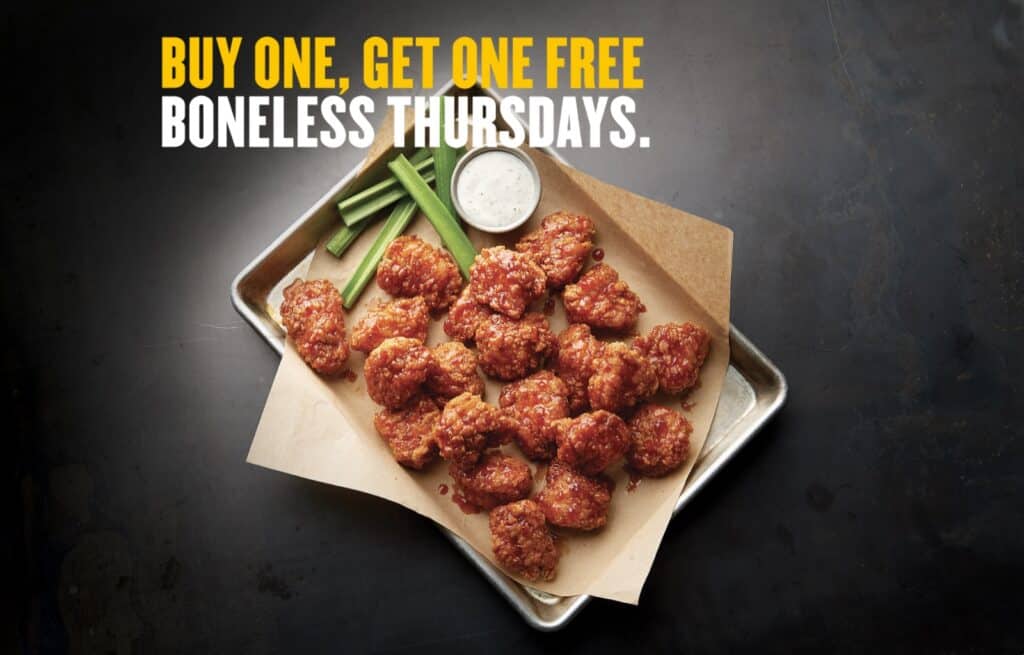 Every Thursday, you can buy Boneless wings and get the 2nd of equal value for free. This offer is available only for online orders.
Buffalo Wild Wings Happy Hour Deals
Buffalo Wild Wings offers a stellar Happy Hour deal that you won't want to miss. From 3 PM to 6 PM, you can enjoy discounted food, beer, and cocktails. This is a fantastic opportunity to wind down after a long workday with some delicious bites and refreshing drinks.
You can enjoy the following deals:
$6 Strawberry Margarita
$4 Blue Long Island Iced Tea
$3 Wild Herd Kölsch
$4 Bud Light
$5 Regional Craft Tall Draft
$5 Bird Dawg
$3 Chips & Salsa
$3 Tater Tots
$5 Mozzarella Sticks
$6 Everything Pretzel Knots
$25 weekly bet insurance
Buffalo Wild Wings, in partnership with BetMGM, has introduced a unique sports betting experience for their customers. By utilizing cutting-edge geolocation technology, fans who visit Buffalo Wild Wings are able to redeem a $25 risk-free bet once per week on their BetMGM app.
New Sweet Chile Lime
Experience the unique flavor of the newly introduced Sweet Chile Lime sauce, available for a limited period.
Upgrade your Burger Game
At Buffalo Wild Wings, you can enjoy your favorite burger from $11.99.
You can choose one of the following burgers:
$11.99 All-American Cheeseburger
$13.99 Cheese Curd Bacon Burger
$15.99 Smoked Brisket Burger
$12.99 Southwestern Black Bean Burger
$14.99 Bacon Smashed Hatch Chile Burger
$8.99 Wing Bundle
Buffalo Wild Wings is currently running a special offer where you can get a bundle of 6 boneless wings and fries for just $8.99. This deal is available for both delivery and pickup orders.
Lunch Combos
Buffalo Wings has a wide range of lunch combos (main, fries & drink) , you can choose from:
Positives
10 Boneless Wings Lunch Combo for $10
Buffalo Ranch Chicken Wrap Lunch Combo for $10
Street Tacos Lunch Combo for $10
Chicken Caesar Salad Lunch Combo for $10
Traditional Wings Lunch Combo for $10
All-American Cheeseburger Lunch Combo for $10
Southern Chicken Sandwich Lunch Combo for $10
3 Pc of Hand-Breaded Tenders Lunch Combo for $10
Chopped Cobb Salad Lunch Combo for $12
All these Buffalo Wild Wings Specials are available for a limited time at participating restaurants.
Home Bundles
BWW has selected these Buffalo Wild Wings Specials in form of bundles for you to enjoy for take out or delivery. Starting $9.99, enjoy these wing bundles by yourself or share them with family or friends. The bundle menu includes:
Positives
10 Boneless Wings, and fries for $11.49
10 Traditional Wings, and fries for $16.49
20 Boneless Wings, and fries for $27.49
20 Traditional Wings, and fries for $30.49
15/15 Wing Bundle for $36.99
20/20 Wing Bundle for $42.99
2 Bird Dawgs, and Fries for $12.49
6 Boneless Wings, and fries for $8.99
6 Traditional Wings, and fries for $9.99
The Buffalo Wild Wings Specials listed above are available at participating locations for a limited time.
Buffalo Wild Wings Blazin' Rewards
Just like the many other food chains, Buffalo Wing has its own. Blazin' Rewards awards its members for doing what they like to do best: eating wings and watching sports at BWW.
You can earn 100 Bonus points when you spent $10 or more.
You can also earn 10 points by checking in at the bar, or let Buffalo Wild Wings know your favorite teams and be rewarded with 50 points.
Accumulate more points and get free food, exclusive offers, and also win tickets and VIP experiences. Join Blazin' Rewards now and get all the deals. The app is available on IOS and Android.
Download on Google Play Download on Apple Store
You can always get the latest Buffalo Wild Wing Specials and deals through your app for delivery or pickup.
The app also has games and quizzes that you can play anytime and get your share of Buffalo Wild Wing Specials and deals.
Buffalo Wild Wings Special: Birthday Reward
All Blazin' Rewards members get 6 free wings on their birthday. You will be sent a coupon valid during your entire birthday month. Redeem your birthday freebie at your nearest BWW.
Buffalo Wild Wings Delivery
Buffalo Wild Wings offers delivery through their own service or third party delivery services (UberEats, Doordash, Grubhub, Postmates and others). You need to order online (website or app) to get delivery.
Delivery fees may change according to different locations and order sizes. Check the delivery fees before you proceed with your orders and check if you are eligible for any delivery deals. Here are some deals available at the moment.
Buffalo Wild Wings Specials: UberEats Deal
UberEats offers its users free delivery on all orders of $15 and more.
Grubhub Delivery
Grubhub is apparently also a fan of LCS and is offering you 6 free boneless wings when you spend 25$ or more plus free delivery fees and a free Hextech Chest & Key.
Make sure to add the 6 wings item to your cart, the price will be deducted after you enter the coupon code below.
6 Free Boneless Wings + Free Delivery
Buffalo Wild Wings Menu
Buffalo Wild Wings's menu is known for its wide selection of chicken wings. Yet, you can still find Signature appetizers, burgers, sandwiches, wraps, sides, tenders, flatbreads, and desserts on their menu. The price of their standard wings combo is $8.
They also feature a children's menu to satisfy their taste buds. Buffalo Wild Wings' kid's menu includes corn dogs, mac & cheese, and a cheeseburger slammer.
Buffalo Wild Wings are also known for their special sauces that go with everything on its menu. Some of their popular sauces are Mango Habanero, Parmesan Garlic, Medium, and Chipotle BBQ. Their dry seasoning is also a classic.
The menu also features gluten-free items for all gluten intolerants. The most popular item must be Naked tenders, they're served with gluten-free sauces and seasoning.
Buffalo Wild Wings: Popular items
Chicken Wings (Original, Honey BBQ, Thai Curry, Parmesan Garlic, Asian Zing, Mango Habanero
Street Tacos
Fried Pickles
Ultimate Nachos
Buffalo Wild Wings Secret Menu
In addition to Buffalo Wild Wings Specials, they also have a secret menu for all wings amateurs. No more secrets, get these items to upgrade your experience at BWW.
Naked Tenders: just like the name shows, they are regular tenders, but crisp. You can add the sauce of your choice
Garlic Parmesan Wings: these wings are creamier and cheesier than the classical wings
Chicken Buffalitos: if you're craving a taco, BWW got you. Chicken Buffalitos is a grilled chicken taco, topped with salsa Fresca, cheese, and sour cream. The taco is served with a Buffalo Wild Wing sauce.
Crispy Mini Corn Dogs: the mini corn dogs are in the appetizer section. This hot dog is actually hot and delicious! A must-try!
Asian Chicken Salad: If you're on the healthier side, get this salad that includes greens, sesame sauce, and pieces of chicken.
Catering Menu
If you are hosting a party, group lunch, or just have lots of mouths to feed, the Buffalo Wild Wings catering menu is here to help. You can choose Traditional Wings Platter with sides of your choice. The platter comes in three (3) sizes 50, 100, and 150 wings. You can also choose the sauces to your liking.
Boneless wings, tenders, and combos are also on the menu. Visit their catering page for more details and information.
About Buffalo Wild Wings
Buffalo Wild Wings is one of the most well-known wings restaurants in the United States. It has been serving authentic and delicious wings to its customers since 1982.
Currently, Buffalo Wild Wings has over 1200 locations. This well-known sports bar and restaurant chain is known for serving authentic buffalo wings and other different specialties.
Currently, Buffalo Wild Wings is a privately held subsidiary of Arby's Restaurant Group. Buffalo Wild Wings is one of the top ten fastest-growing chains in the US, expanding at a rate of 15% per year.
Because of the combination of crispiness, juiciness, and authentic flavors from the sauce to the meat, some people believe that Buffalo Wild Wings are the tastiest in America.
In addition to their menu, they're also known for their Buffalo Wild Wings Specials to enjoy their food at the the cheap!
Buffalo Wild Wings Hours
Each Buffalo Wild Wings location has their particular opening and closing hours. They generally open at 11 am and close at 1 am Monday through Sunday. Some stores may stay open late at night if they happen to be in busier locations.
Buffalo Wild Wings Near Me
Buffalo Wild Wings has over 1200 locations over the United States. Find your nearest location using the website store-locator or the app.
Buffalo Wild Wings Nutrition
BWW has a nutrition and allergen index that you can check before your orders if you have any allergies or follow a specific diet. If anything, ask the servers at BBW restaurants to take out some ingredients to fit your liking.
Receive Coupons & Deals Updates
Get the Latest Deals as soon as they're available!